CNC Turning & Machining
CNC turning is the foundation that Thomas W. Springer, Inc. was built on in 1976 and will continue to be into the future. We recently upgraded our Tsugami CNC screw machines and foresee this aggressive growth and improvement continuing. Our CNC turning staff consists of seasoned programmers, highly skilled set up personnel and qualified operators all working toward the same goal. This combination of state-of-the-art machines, a strong support package and well over 200 years of combined CNC Machining experience from our staff allows us to meet any challenge.
Our CNC Machining Capabilities
(8) CNC Swiss-style screw machines with up to 8-axis machining
(8) CNC chucker-type machines
Sub-spindle pick off with simultaneous secondary machining
Live cross-working tools for milling, drilling, boring and tapping
Diameters from .024″ up to 6″
Accumulation tables, magazine bar feeds and fire prevention systems allow for "lights-out" machining
Experts in the machining of stainless, beryllium, brass, aluminum, Vespel®, super alloys and many other materials
Esprit programming and verification software package
Chucker & Swiss-style CNC Turning:
Medical, Analytical Test Equipment, Semi-Conductor and Life Sciences are just a few of the demanding industries that we produce parts for. Our turning department is well equipped and experienced to meet these demands head on. Whether you need (25) Ø2.000" tight-tolerance Stainless medical appliances or (10,000) Ø.074" gold plated electronic connectors, Thomas W. Springer Inc. has you covered.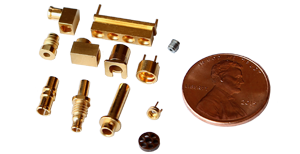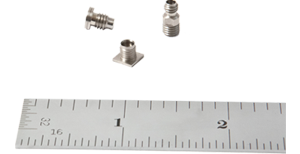 Cross-working & Sub-spindle Pick-off Capabilities:
True 8-axis machines with numerous cross-working attachments, simultaneous secondary machining and lights-out operation help to eliminate costly external work and manual deburring. This maximizes part-to-part consistency, increases our throughput, and enables us to pass savings onto the customer.
Variety of Materials Machined Daily:
We machine every day materials like 303 stainless and 6061 aluminum regularly, but are well versed in other, not-so-common materials such as: C17300 beryllium, 17-4 PH stainless, 304 and 316 stainless, Vespel®, Ultem® and other plastics.
If your parts require a super alloy, rest assured we have in-depth turning and machining experience with titanium, 330 and 321 stainless, just to name a few.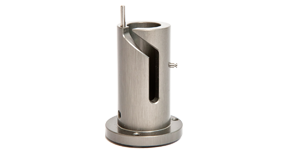 Off-line Programming & Verification:
In an effort to fully utilize the functionality of our state-of-the-art CNC machines, we have invested in a powerful CAD/CAM software program from Esprit. This paired with verification software allows us to simulate and verify machining operations on our PC in a virtual state, cutting down on idle time, broken tools, scrapped parts and machine crashes.
Springer's came through for our engineers when others couldn't. We always send the "impossible" to them.

2015-09-02T17:18:59+00:00

Springer's came through for our engineers when others couldn't. We always send the "impossible" to them.

https://www.twspringer.com/testimonials/13/

The management and employees at TWS Inc. are extremely easy to work with.

2015-07-06T19:09:00+00:00

The management and employees at TWS Inc. are extremely easy to work with.

https://www.twspringer.com/testimonials/2/

It is their commitment to the customers which keeps the customers coming back.

2015-09-02T17:26:01+00:00

It is their commitment to the customers which keeps the customers coming back.

https://www.twspringer.com/testimonials/18/

I consider Springer to be my top supplier. They are very easy to work with and will go to great lengths to meet my requests.

2015-07-14T19:49:34+00:00

I consider Springer to be my top supplier. They are very easy to work with and will go to great lengths to meet my requests.

https://www.twspringer.com/testimonials/11/

The machining expertise that they posses at TWS Inc. has made my life as an engineer much easier.

2015-09-02T17:19:28+00:00

The machining expertise that they posses at TWS Inc. has made my life as an engineer much easier.

https://www.twspringer.com/testimonials/14/

It is always evident that Thomas W. Springer, Inc. is committed to taking care of the customer.

2015-07-14T19:38:10+00:00

It is always evident that Thomas W. Springer, Inc. is committed to taking care of the customer.

https://www.twspringer.com/testimonials/6/

It is a pleasure to work with the team at T.W. Springer.

2015-09-02T17:25:25+00:00

It is a pleasure to work with the team at T.W. Springer.

https://www.twspringer.com/testimonials/16/

Having perfectly made components delivered on time has helped my business grow in an era when others simply give up or go overseas. Thanks to Springer's, I can keep my products here in America.

2015-07-06T19:53:32+00:00

Having perfectly made components delivered on time has helped my business grow in an era when others simply give up or go overseas. Thanks to Springer's, I can keep my products here in America.

https://www.twspringer.com/testimonials/3/

We depend on the team at TWS to supply our most complex components.

2015-09-02T17:25:43+00:00

We depend on the team at TWS to supply our most complex components.

https://www.twspringer.com/testimonials/17/

Our parts are always on time and your company is very easy to work with.

2015-09-02T17:18:28+00:00

Our parts are always on time and your company is very easy to work with.

https://www.twspringer.com/testimonials/12/

Communication is the key, we are notified well in advance of any issues that could impact our requested due date.

2015-07-14T19:44:35+00:00

Communication is the key, we are notified well in advance of any issues that could impact our requested due date.

https://www.twspringer.com/testimonials/8/

Without the support of the team at TWS, we could not achieve our goals. Thank you!

2015-09-02T17:26:30+00:00

Without the support of the team at TWS, we could not achieve our goals. Thank you!

https://www.twspringer.com/testimonials/19/

They are my first call for all of my precision machining needs.

2015-07-14T19:45:52+00:00

They are my first call for all of my precision machining needs.

https://www.twspringer.com/testimonials/9/

They work very well with our engineers.

2015-07-06T19:55:10+00:00

They work very well with our engineers.

https://www.twspringer.com/testimonials/5/

Always in specification and delivered on time, if not before the due date.

2015-07-14T19:43:52+00:00

Always in specification and delivered on time, if not before the due date.

https://www.twspringer.com/testimonials/7/

Springer's goes beyond simple customer service, they offer customer care.

2015-07-06T18:37:45+00:00

Springer's goes beyond simple customer service, they offer customer care.

https://www.twspringer.com/testimonials/1/

The machinists at Thomas W Springer are eager to hear my ideas on a new project and I welcome their input.

2015-07-06T19:54:17+00:00

The machinists at Thomas W Springer are eager to hear my ideas on a new project and I welcome their input.

https://www.twspringer.com/testimonials/4/

Inspections are always perfect.

2015-07-14T19:46:32+00:00

Inspections are always perfect.

https://www.twspringer.com/testimonials/10/

At their request we modified the print of an existing part to ease the machining process. This produced a better part at a cheaper price. THANK YOU!

2015-09-02T17:24:08+00:00

At their request we modified the print of an existing part to ease the machining process. This produced a better part at a cheaper price. THANK YOU!

https://www.twspringer.com/testimonials/15/