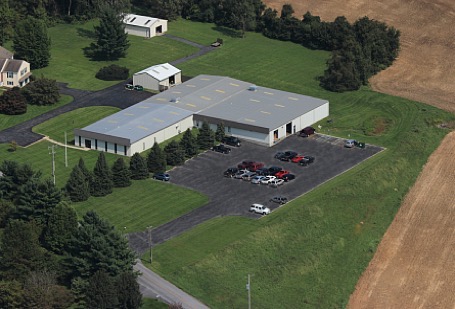 About Thomas W. Springer, Inc.
Thomas W. Springer, Inc. started serving local customers in 1976 and has since grown to serve customers nationwide and internationally. We specialize in complex precision parts and deliver the highest quality parts time after time. We have long-term relationships with our customers, supplying small precision manufactured components to their specifications and providing pre-production engineering expertise.
Our facility occupies a 20,000 sq. ft. building in rural Landenberg, PA located 15 miles west of Wilmington, DE and approximately 35 miles south of Philadelphia. The business currently employs 25 people, running one manned and up to two unmanned shifts.
The company specializes in precision production machining of small components in lot sizes from one to 10,000 pieces. Larger quantities are run based on part specs and available machine capacity. All production processes are monitored using statistical process control data and are supplied to the customer as requested.
Our History
Thomas W. Springer, Inc. opened for business in the fall of 1976 renting a barn for shop space. It started as a one-man operation that did anything and everything to survive. The first NC machine was purchased in 1979 which started the business on the path it follows today. Soon the original location was outgrown and a new building was constructed at our present location. Constant growth, two building expansions and state-of-the-art equipment have us well situated for the future.
The management and employees at TWS Inc. are extremely easy to work with.

2015-07-06T19:09:00+00:00

The management and employees at TWS Inc. are extremely easy to work with.

https://www.twspringer.com/testimonials/2/

I consider Springer to be my top supplier. They are very easy to work with and will go to great lengths to meet my requests.

2015-07-14T19:49:34+00:00

I consider Springer to be my top supplier. They are very easy to work with and will go to great lengths to meet my requests.

https://www.twspringer.com/testimonials/11/

It is their commitment to the customers which keeps the customers coming back.

2015-09-02T17:26:01+00:00

It is their commitment to the customers which keeps the customers coming back.

https://www.twspringer.com/testimonials/18/

The machinists at Thomas W Springer are eager to hear my ideas on a new project and I welcome their input.

2015-07-06T19:54:17+00:00

The machinists at Thomas W Springer are eager to hear my ideas on a new project and I welcome their input.

https://www.twspringer.com/testimonials/4/

Inspections are always perfect.

2015-07-14T19:46:32+00:00

Inspections are always perfect.

https://www.twspringer.com/testimonials/10/

They work very well with our engineers.

2015-07-06T19:55:10+00:00

They work very well with our engineers.

https://www.twspringer.com/testimonials/5/

The machining expertise that they posses at TWS Inc. has made my life as an engineer much easier.

2015-09-02T17:19:28+00:00

The machining expertise that they posses at TWS Inc. has made my life as an engineer much easier.

https://www.twspringer.com/testimonials/14/

At their request we modified the print of an existing part to ease the machining process. This produced a better part at a cheaper price. THANK YOU!

2015-09-02T17:24:08+00:00

At their request we modified the print of an existing part to ease the machining process. This produced a better part at a cheaper price. THANK YOU!

https://www.twspringer.com/testimonials/15/

They are my first call for all of my precision machining needs.

2015-07-14T19:45:52+00:00

They are my first call for all of my precision machining needs.

https://www.twspringer.com/testimonials/9/

We depend on the team at TWS to supply our most complex components.

2015-09-02T17:25:43+00:00

We depend on the team at TWS to supply our most complex components.

https://www.twspringer.com/testimonials/17/

Springer's came through for our engineers when others couldn't. We always send the "impossible" to them.

2015-09-02T17:18:59+00:00

Springer's came through for our engineers when others couldn't. We always send the "impossible" to them.

https://www.twspringer.com/testimonials/13/

Without the support of the team at TWS, we could not achieve our goals. Thank you!

2015-09-02T17:26:30+00:00

Without the support of the team at TWS, we could not achieve our goals. Thank you!

https://www.twspringer.com/testimonials/19/

Communication is the key, we are notified well in advance of any issues that could impact our requested due date.

2015-07-14T19:44:35+00:00

Communication is the key, we are notified well in advance of any issues that could impact our requested due date.

https://www.twspringer.com/testimonials/8/

It is a pleasure to work with the team at T.W. Springer.

2015-09-02T17:25:25+00:00

It is a pleasure to work with the team at T.W. Springer.

https://www.twspringer.com/testimonials/16/

It is always evident that Thomas W. Springer, Inc. is committed to taking care of the customer.

2015-07-14T19:38:10+00:00

It is always evident that Thomas W. Springer, Inc. is committed to taking care of the customer.

https://www.twspringer.com/testimonials/6/

Always in specification and delivered on time, if not before the due date.

2015-07-14T19:43:52+00:00

Always in specification and delivered on time, if not before the due date.

https://www.twspringer.com/testimonials/7/

Springer's goes beyond simple customer service, they offer customer care.

2015-07-06T18:37:45+00:00

Springer's goes beyond simple customer service, they offer customer care.

https://www.twspringer.com/testimonials/1/

Having perfectly made components delivered on time has helped my business grow in an era when others simply give up or go overseas. Thanks to Springer's, I can keep my products here in America.

2015-07-06T19:53:32+00:00

Having perfectly made components delivered on time has helped my business grow in an era when others simply give up or go overseas. Thanks to Springer's, I can keep my products here in America.

https://www.twspringer.com/testimonials/3/

Our parts are always on time and your company is very easy to work with.

2015-09-02T17:18:28+00:00

Our parts are always on time and your company is very easy to work with.

https://www.twspringer.com/testimonials/12/