QUALITY
The cornerstone of any strong manufacturing company is the quality control department, and Thomas W. Springer Inc. is no exception. With over 110 years of combined QC experience, our team of inspectors are ready to meet any challenge. A qualified work force is only as good as the tools they have to work with, and our QC department is full of state-of-the-art inspection equipment.
Temperature-controlled environment
Large inventory of dedicated gaging
(1) Keyence IM-6500 Image Measurement System
(5) Optical comparators with edge sensing and geometric digital readouts
(1) Zeiss Contura G2 Aktiv Coordinate Measuring Machine (CMM)
(1) Numerex Coordinate Measuring Machine (CMM)
Starrett Indicating Thread Gage System
Mitutoyo Measurlink SPC (Statistical Process Control) Data collection system
Calibration Masters for in-house calibration of inspection equipment
Temperature-Controlled Environment:
Inspection of critical tolerances requires a stable work area; our quality control department is temperature and humidity controlled to +/- 2 degrees.
Dedicated Gage Inventory:
We have over 3,000 dedicated gages in house. Everything from Go / No Go plug gages, thread rings, and thread plugs to an extensive selection of minus gage pins. If we do not have a gage to fit the specifications of your part we will be happy to purchase it. All of our gaging and in-house measuring tools are calibrated at set intervals to comply with our ISO certification.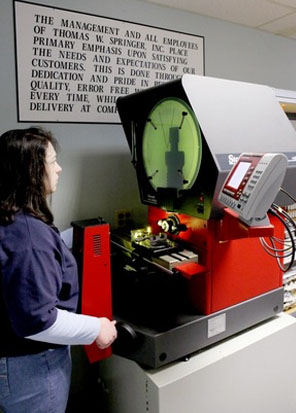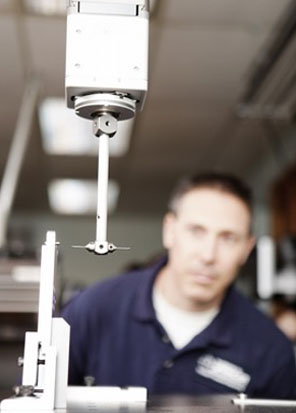 Statistical Process Control:
We have five shop-floor SPC stations fully loaded with Mitutoyo inspection equipment. In process inspections are managed and dimensions are recorded throughout the production run. All of the dimensions are saved on our QC server and are available to the customer at their request. Special inspections are completed on first-time runs and revision changes at the customer's request.
CMM Inspection:
The crown jewel of our inspection department is our Zeiss Contura G2 coordinate measuring machine. This active scanning programmable CMM runs off of a powerful Calypso user desk software package. With the ability to import CAD files we can use the same design file from the prototype stage to the final inspection of the production run. This ensures absolute adherence to your design requirements and the highest quality through all stages of manufacturing.
Visual Inspection:
With the addition of the Keyence IM-6500 Image Dimension Measuring System we are able to significantly reduce inspection time without sacrificing quality or accuracy. We can now accurately inspect up to 100 dimensions on multiple parts in seconds, helping us toward our goal of 100% accuracy while also increasing inspection throughput. The shop floor also utilizes Starrett optical comparators with edge sensing technology and geometric digital readouts to verify accuracy through all stages of production.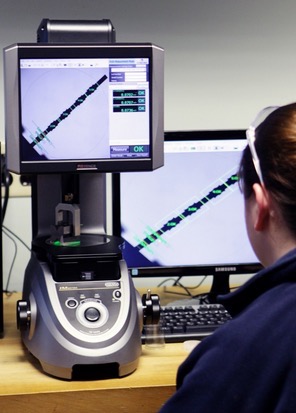 At their request we modified the print of an existing part to ease the machining process. This produced a better part at a cheaper price. THANK YOU!

2015-09-02T17:24:08+00:00

At their request we modified the print of an existing part to ease the machining process. This produced a better part at a cheaper price. THANK YOU!

https://www.twspringer.com/testimonials/15/

Springer's goes beyond simple customer service, they offer customer care.

2015-07-06T18:37:45+00:00

Springer's goes beyond simple customer service, they offer customer care.

https://www.twspringer.com/testimonials/1/

The management and employees at TWS Inc. are extremely easy to work with.

2015-07-06T19:09:00+00:00

The management and employees at TWS Inc. are extremely easy to work with.

https://www.twspringer.com/testimonials/2/

The machinists at Thomas W Springer are eager to hear my ideas on a new project and I welcome their input.

2015-07-06T19:54:17+00:00

The machinists at Thomas W Springer are eager to hear my ideas on a new project and I welcome their input.

https://www.twspringer.com/testimonials/4/

I consider Springer to be my top supplier. They are very easy to work with and will go to great lengths to meet my requests.

2015-07-14T19:49:34+00:00

I consider Springer to be my top supplier. They are very easy to work with and will go to great lengths to meet my requests.

https://www.twspringer.com/testimonials/11/

Our parts are always on time and your company is very easy to work with.

2015-09-02T17:18:28+00:00

Our parts are always on time and your company is very easy to work with.

https://www.twspringer.com/testimonials/12/

Without the support of the team at TWS, we could not achieve our goals. Thank you!

2015-09-02T17:26:30+00:00

Without the support of the team at TWS, we could not achieve our goals. Thank you!

https://www.twspringer.com/testimonials/19/

It is a pleasure to work with the team at T.W. Springer.

2015-09-02T17:25:25+00:00

It is a pleasure to work with the team at T.W. Springer.

https://www.twspringer.com/testimonials/16/

We depend on the team at TWS to supply our most complex components.

2015-09-02T17:25:43+00:00

We depend on the team at TWS to supply our most complex components.

https://www.twspringer.com/testimonials/17/

Communication is the key, we are notified well in advance of any issues that could impact our requested due date.

2015-07-14T19:44:35+00:00

Communication is the key, we are notified well in advance of any issues that could impact our requested due date.

https://www.twspringer.com/testimonials/8/

Inspections are always perfect.

2015-07-14T19:46:32+00:00

Inspections are always perfect.

https://www.twspringer.com/testimonials/10/

They are my first call for all of my precision machining needs.

2015-07-14T19:45:52+00:00

They are my first call for all of my precision machining needs.

https://www.twspringer.com/testimonials/9/

Springer's came through for our engineers when others couldn't. We always send the "impossible" to them.

2015-09-02T17:18:59+00:00

Springer's came through for our engineers when others couldn't. We always send the "impossible" to them.

https://www.twspringer.com/testimonials/13/

It is always evident that Thomas W. Springer, Inc. is committed to taking care of the customer.

2015-07-14T19:38:10+00:00

It is always evident that Thomas W. Springer, Inc. is committed to taking care of the customer.

https://www.twspringer.com/testimonials/6/

Having perfectly made components delivered on time has helped my business grow in an era when others simply give up or go overseas. Thanks to Springer's, I can keep my products here in America.

2015-07-06T19:53:32+00:00

Having perfectly made components delivered on time has helped my business grow in an era when others simply give up or go overseas. Thanks to Springer's, I can keep my products here in America.

https://www.twspringer.com/testimonials/3/

It is their commitment to the customers which keeps the customers coming back.

2015-09-02T17:26:01+00:00

It is their commitment to the customers which keeps the customers coming back.

https://www.twspringer.com/testimonials/18/

Always in specification and delivered on time, if not before the due date.

2015-07-14T19:43:52+00:00

Always in specification and delivered on time, if not before the due date.

https://www.twspringer.com/testimonials/7/

The machining expertise that they posses at TWS Inc. has made my life as an engineer much easier.

2015-09-02T17:19:28+00:00

The machining expertise that they posses at TWS Inc. has made my life as an engineer much easier.

https://www.twspringer.com/testimonials/14/

They work very well with our engineers.

2015-07-06T19:55:10+00:00

They work very well with our engineers.

https://www.twspringer.com/testimonials/5/